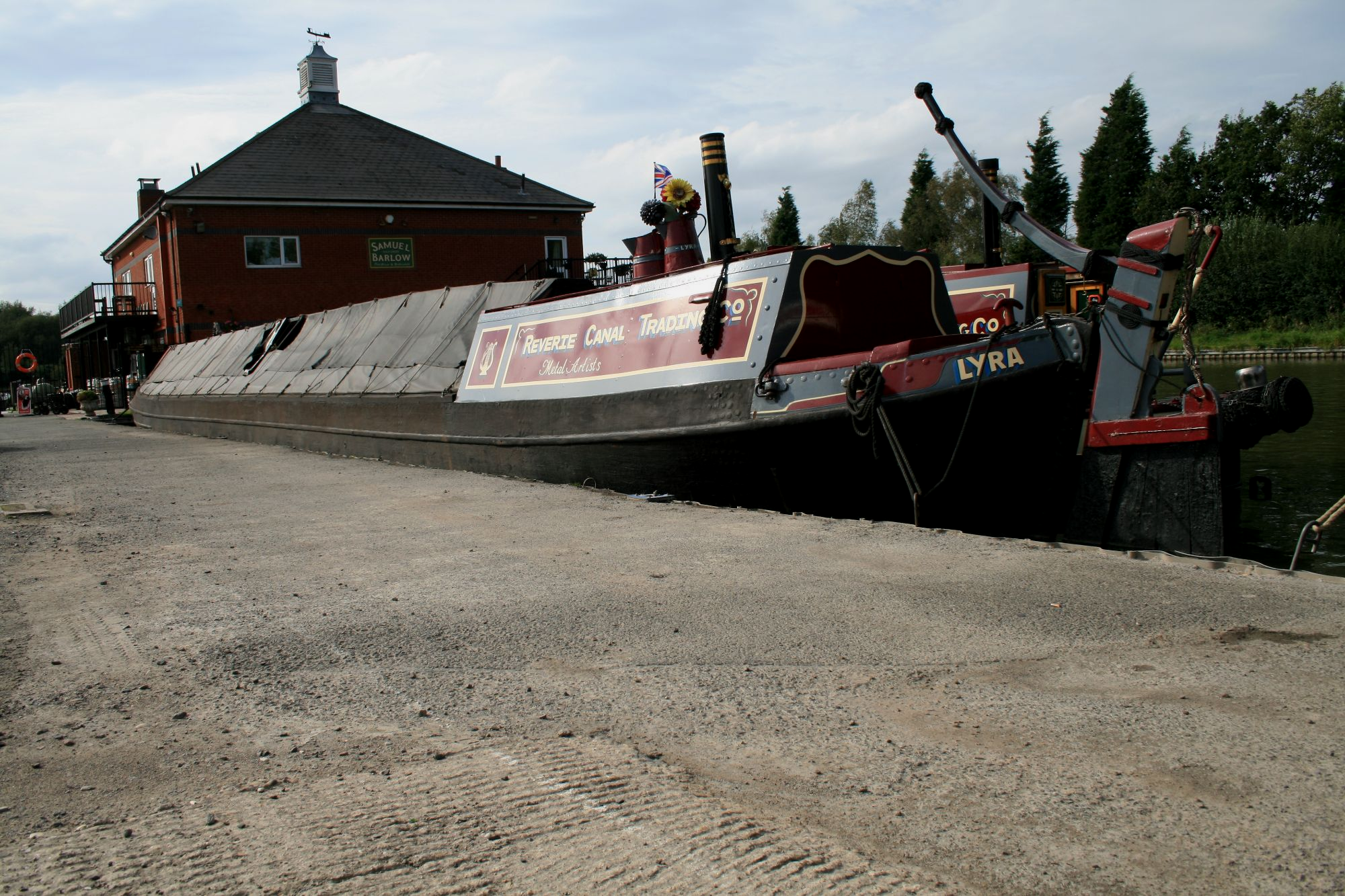 Lyra 1935 Small Northwich Butty From 2015 till March 2022 we travelled the UK canals, our workshop was based inside Narrowboat Butty Lyra. See below for the boats history.
One of 12 built by Yarwoods of Northwich in 1935 for the Grand Union Canal Carrying fleet. No 41B later changed to 306 and originally paired with motor boat Enceladus.
Lyra is a small Northwich Starclass butty, built of riveted steel construction. When built she would have been of 'composite' construction meaning she would have had a wooden base, which has since been changed to steel.
From looking back at old photos it seems like the original cabin was lost sometime in the late 50s during or coming to the end of British Waterways ownership. Since that time Lyra has had variants of wooden cabin inc the one she had when we purchased her in 2015. We have however since changed her back to a steel Yarwoods style cabin (May 2019).
Below is a history time line for Lyra. However we are always finding out new information so may make adjustments. If you have any additional information or notice something is wrong then please contact us. A big thank you goes to Pete Harrison for providing us with lots of useful information.
29/12/1934 the order was placed with W J Yarwoods & Sons for 12 pairs of narrowboats at £1250 per pair.

nominal dimensions quoted as 71'6'' x 7'0½'' x 4'2'')

21/08/1935 The day we class as Lyra's birthday and the day her and motor boat Enceladus were delivered to the Grand Union Canal Carrying Co LTD.


08/1935 Inspections were carried out by Birmingham Sanitary Inspector so as to be used as a dwelling.


20/09/1935 health registered at Birmingham, and given number 1576 . 1 cabin = 4 men or 4 women, or man, woman and 3 children


21/09/1935 a change of mind and Lyra was re registered with Brentford Sanitary Inspector. Cabin master given as Samuel Pritchard.


10/10/1935 gauged by Grand Union Canal Co., and given number 12392.


71'10'' x 7'0 ¼'' – 38 tons @ 50.25'' = 0.47'' dry side. Items on board during gauging were: 4 beams, mast and case, tarpaulings and side cloths, deck and cabin cloth, 4 planks, 1 shore plank, 2 standards, 6 stays, 2 hitchers, spare tiller, false floor, 1 ½ c.w.t. of coal, 1 head and stern strap, stove, cratch, log.

14/09/1944 – on fleet list paired with TARPORLEY, steerer J. Bodley.


01/01/1948 – nationalised into British Transport Commission fleet.


24/07/1949 South Eastern Division fleet list paired with FALCON, steerer Joe Tyler.


13/05/1952 South Eastern Division fleet list paired with LANCING, steerer A. Beechey.


14/11/1953 – repairs carried out at Bulls Bridge - docking date given as 12/1953


06/05/1954 Back to work


01/10/1954 South Eastern Division fleet paired with ALDGATE, steerer B. Wallington.


02/07/1957 South Eastern Division fleet list paired with HADLEY, steerer S. Mitchell.


10/01/1958 is when we suspect Lyra was having her steel cabin removed to be replaced with wood, as she is at this time not on the South Eastern Division fleet list.


22/04/1958 Back to work.


20/05/1958 South Eastern Division fleet list paired with BALDOCK, steerer S. Mitchell.


26/01/1959 South Eastern Division fleet list paired with VIRGO, steerer S. Mitchell.


15/02/1960 South Eastern Division fleet list paired with ACHERNAR, steerer S. Mitchell.


11/1960 South Eastern Division fleet list paired with GEMINI, steerer A. Best.


19/06/1962 – on fleet reduction list.


06/1968 – Lyra was then sold to F.B. Lycett, Willenhall.


1971 – Lyra was sold to A. and T. Collier, Leighton Buzzard and paired with ELSTREE. Andy and Tim used Lyra for bulk coal carrying and also camping trips.


1978 Lyra was sold to Peter Fincher, Cowroast. It has been claimed this sale happened in 1975 not 1978.


1980 Lyra was sold to Mike and Beverley Stainer


1982 Lyra was sold to Linda Hill, Stockton (sometimes known as 'Linda Lyra')


1983 Lyra was sold to Mervyn Lunn and Kath Jeavons, Birmingham.


1987 Lyra was sold to Rex Wain, Stockton.


1988 Lyra was sold to Graeme Pearce, Stockton.


05/1993 Lyra was sold to David King, Long Buckby – paired with FREEDOM No. 4. The Kings lived aboard the boats.


01/08/2001 Lyra was sold to Keith Tuckey, Warwick.


11/2004 Lyra was sold to Ben Selfe, Saul Junction and paired with Knot Krazy and used for Ben's fender making buisness.


2012 Lyra was sold to R.W. Davis & Son Ltd., Saul Junction.


03/2015 Lyra was sold to Daniel Hetherington and Keri-Leigh Poxon paired with modern motor Mr Jingles and set to work for Reverie Canal Trading Co.


11/2016 Lyra became paired with modern motor boat Harrier still working for Reverie Canal Trading Co.


05/2019 Lyra was treated to a nice new steel Yarwoods Style Cabin.
March 2022 sold to Pete Harrison to be paired with Otley.